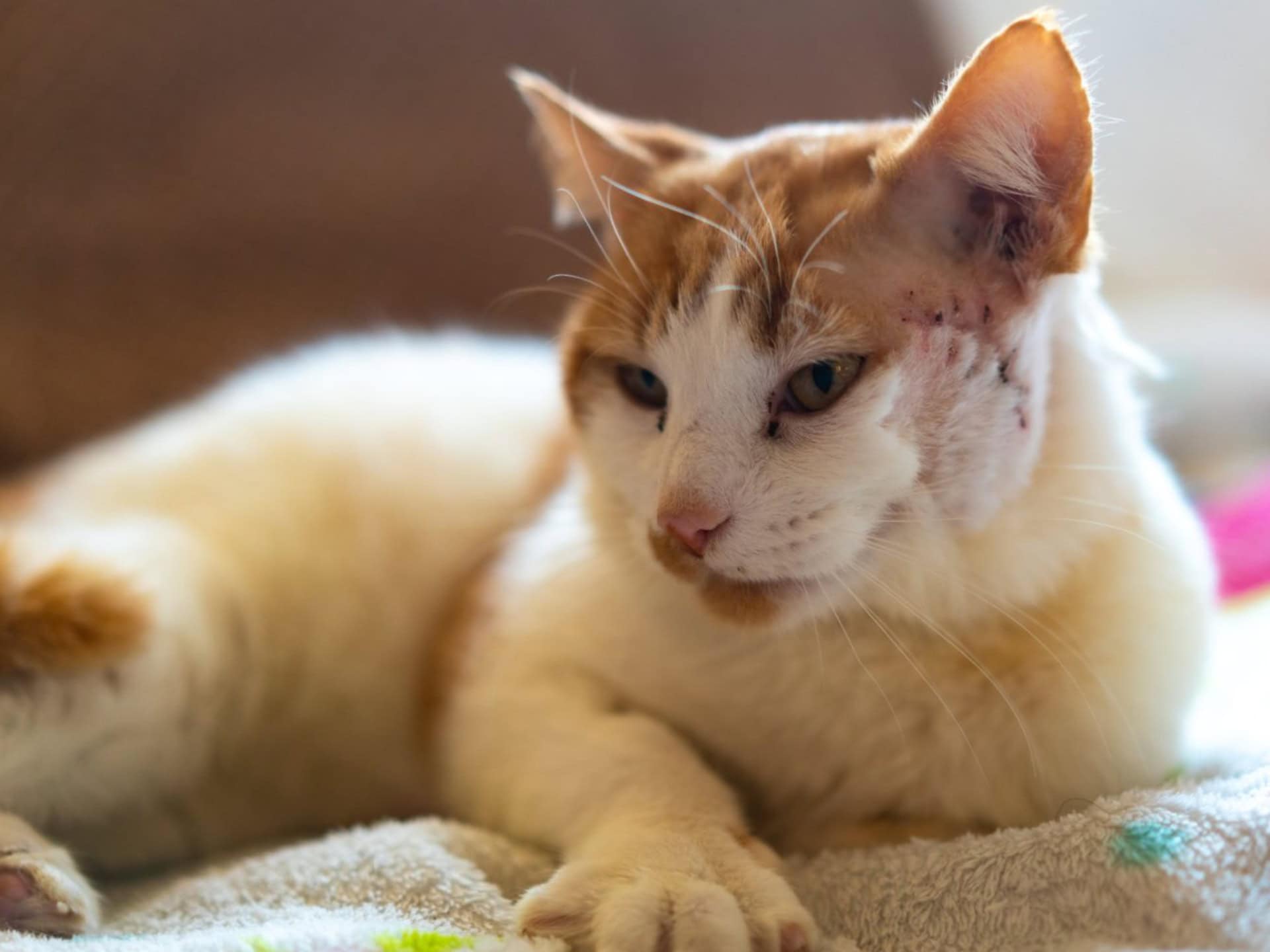 Help injured pets like Charlie
We're seeing more pets arrive at Woodgreen with complex injuries or illnesses. Donations from supporters like you can make all the difference to pets in need, just like Charlie.
A complicated future for battle-scarred Charlie
Charlie was brought to Woodgreen with a nasty infected wound on his face, the result of a burst abscess. The hole in Charlie's face was quite shocking to look at, even for our highly experienced vets.
For several days the wound was gently flushed and cleaned until all the dead tissue came away and the infection was retreating. Thankfully the formation of new tissue and blood vessels meant that it was beginning to heal and on day 13 of his treatment, vets were finally able to close Charlie's wound using surgical stitches.
Please help pets like Charlie
We're seeing more pets left homeless as owners can't afford or manage their care when the unexpected happens. We'll never turn them away, no matter the cost.
Hidden scars
We also neutered Charlie, as cats that have not been neutered tend to roam, often ending up in another cats' territory. This can lead to fighting and was most likely a factor in Charlie having already sustained a number of 'battle scars' on his body.
Unfortunately, tests also revealed that Charlie has Feline Immunodeficiency Virus (FIV) – a virus that affects the immune system of the cat. As FIV is infectious to other cats, the last thing we want to do is put other pets at risk, which is why we test cats like Charlie – those with bites, scratches and other wounds.
Finding Charlie his forever home
Now the challenge is to find Charlie a new home, which is a bit more complicated than usual, as we must be especially careful when rehoming cats with FIV. To avoid any risk of passing on the virus to other cats, Charlie will need a home with an enclosed garden, or situated in a rural setting, where he can explore freely, and enjoy all the comforts of a quiet life.
641
Strays were given the love and care they desperately needed last year.
60,000
Dog walks taken every year by our rehoming staff and volunteers - that's 165 a day!
4,269
Pets taken in and cared for by our expert team in a typical year. Alongside dogs and cats, we help rehome chickens, rabbits and rodents.
Why support Woodgreen?
Ever since we first opened our doors in north London in 1924, we've been transforming pets' lives – and through them, the lives of owners. From those humble beginnings we've grown into one of the UK's largest pet charities and our Godmanchester base is one of the largest animal rehoming centres in Europe.
Last year we cared for 4,269 dogs, cats, chickens, rabbits and rodents in our centre. And alongside our animal care and rehoming, we helped thousands of pet owners with advice, support and training so they can give their pet everything they need.